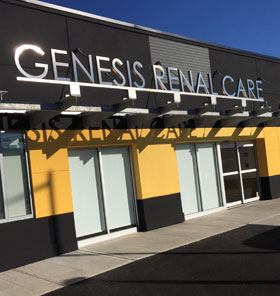 In-Center Hemodialysis
Dialysis with Quality and Comfort
Dialysis is a treatment for end stage kidney disease when kidney function goes below 10% to 15%. At this point the kidneys are no longer able to filter blood and create urine, causing toxins and excess fluid to build up in the body. Dialysis uses a special fluid to remove waste and extra fluid from the blood.
Genesis Renal Care offers in-center Hemodialysis treatment by a highly trained clinical team of licensed professionals. State of the art equipment and the latest technology ensures effective and efficient treatment.
Dialysis at Genesis is only three times a week, allowing for a full lifestyle outside of the Center. A pleasant environment and soothing décor facilitate healing, and a care partner is not required for in-center dialysis treatment.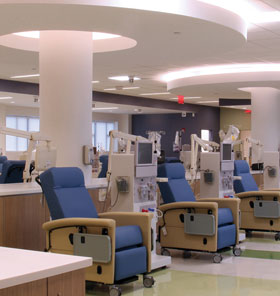 Comfort
Amenities and Atmosphere
Comfort and relaxation are components of the core values at Genesis, with luxury amenities that put patients at ease.
Cutting edge equipment and technology
Preferred time slots
Free wifi
Calm, quiet ambiance
Chairs equipped with massage and heat options
Individual TVs with Direct TV and Premium channels
Modern décor with sleek, soothing undertones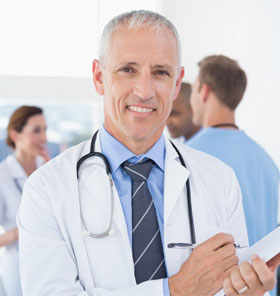 Medical Excellence
Excellence in all Aspects of Care
Patients experience medical excellence in every aspect of care, and can rest assured in the knowledge that they are in the care of highly skilled medical professionals.
Directed by a Board – Certified Nephrologist
Collaboration with transplant programs
Nutritional support from NYS registered Dietitian
Counseling from NYS licensed Social Worker
Onsite education and support groups
Referrals for trusted and reliable providers
Most insurances accepted
Skilled and caring staff